Laurel @ SouthEastRoads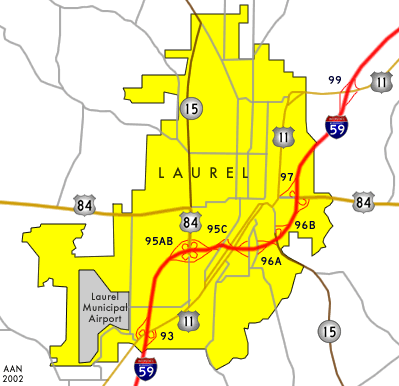 AARoads includes a focus page on the city of Laurel based on the imfamous Interstate 59 "Laurel Curve". The city boasts only 18,827 residents, but one would not guess it was that small based on the number of interchanges and winding routing of Interstate 59 through the city. In other words, the city appears to be larger than it actually is.

Interstate 59 bisects the city while it wraps around the downtown area. The Interstate maintains four lanes throughout the city, with an extremely sharp turn at the aformentioned "Laurel Curve". This stretch of twisting roadway sees a reduction in speed limits to the Interstate sub-standard of 45 mph with closely placed interchanges to complicate things. U.S. 84 and Mississippi 15 also join up for some mileage near downtown and the curve, allowing for an Interstate, U.S., and State highway overlap (a wrong-way multiplex at that between Interstate 59 and Mississippi 15). Numerous warning signs and flashing lights are in place for the sharp curve of the Interstate with the speed limit reduction rigorously enforced.
| | |
| --- | --- |
| | Southbound on-ramp to Interstate 59 from Exit 95C, located south of downtown. Note that U.S. 84 west and Mississippi 15 north are shown secondary to the guide sign with shields. This guide sign is one of the few newer ones with standard MUTCD font. Photo taken 06/01. |
Mississippi @ SouthEastRoads - Interstate 59

The only route to retain its original Laurel city limits routing. U.S. 11 serves the sleepy downtown area, paralleling Interstate 59 to the west. It intersects with the Interstate to the north and south of the city at Exits 90 and 99.